Instagram is capturing a higher share of social commerce sales by adding a new payment feature to conversational messaging, which makes it easier to buy products on Instagram. The Instagram Payments feature allows shoppers to send messages directly to brands and then pay and track their orders within the same chat tool.
Social eCommerce Data Trends
Statistics show that social e-commerce is here to stay and is growing rapidly. Experts predict that social e-commerce will grow three times faster than traditional e-commerce.
According to Insider Intelligence, the chart below shows that by 2025, 108 million U.S. shoppers will make purchases through social media, representing 37.9 percent of the population.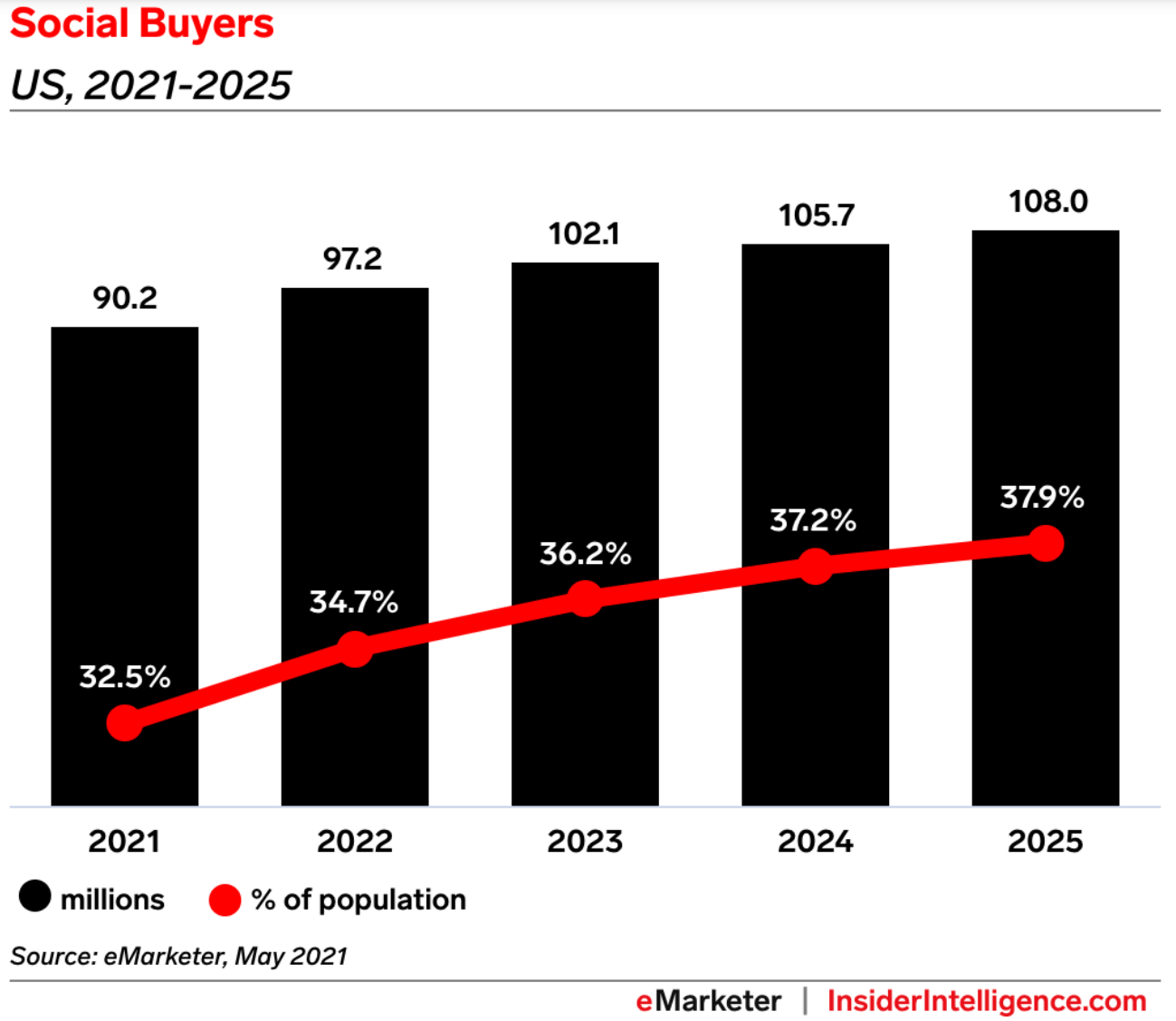 With so many shoppers using social media to discover products, research and watch reviews, influencer content is also relevant to consumers' purchase decisions on social media.
Instagram launches chat payment feature
Instagram has launched a chat payment feature that gives small business owners the opportunity to sell through direct chat messages or DMs.
How to pay for chat in Instagram
A shopper contacts a company to ask about a product. The brand and product are placed in a conversation to answer the customer's questions. If the shopper is interested in purchasing, the business can send a payment link directly to the shopper in the chat to collect payment, and the company then sends the product to the user.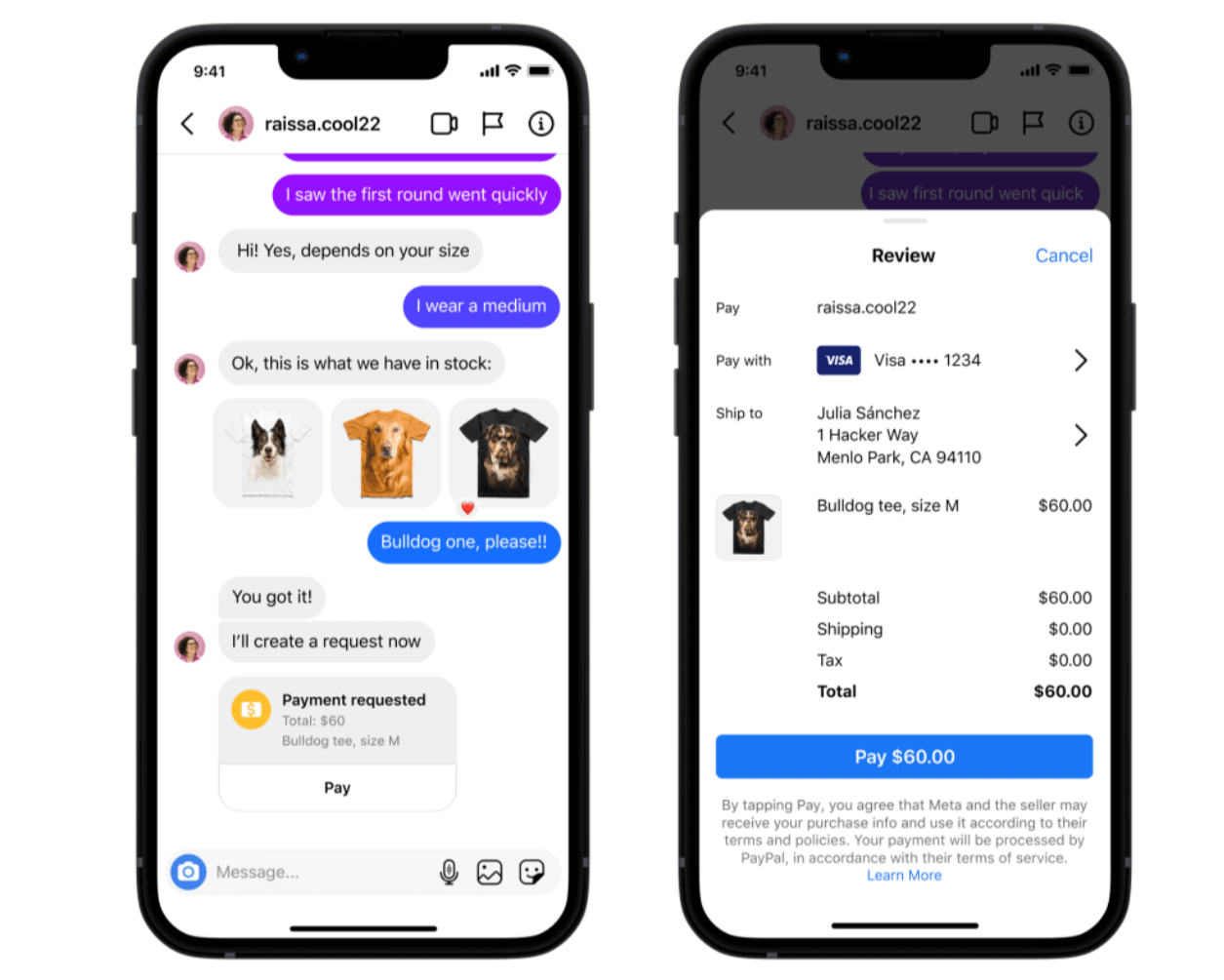 The same thread for each customer inquiry will be automatically recorded and the merchant can update the tracking customer information or serve as a window for customer after-sales support for questions after the customer receives the product.
Benefits of using Instagram for chat payments
This new feature gives shoppers and brands the opportunity to easily connect and make sales. The benefits of these features include.
Simplified checkout: Consumers can move from browsing to chat to purchase, all by sending a direct message to the company.

There is another way for businesses to sell: any business can use it after a short setup process. This feature provides another way for businesses to connect with their customers and make direct sales.

PERSONALIZED ATTENTION: DM IS A PERSONALIZED MESSAGE, WHICH MEANS CUSTOMERS CAN GET ONE-ON-ONE ATTENTION FROM THEIR FAVORITE BRANDS.
Any business can use this new payment feature, but there is a setup process. Businesses need to do the following.
Set up an Instagram Direct account.

Provide the necessary contact information and bank details.

Enable the chat payment feature.
Instagram Shops invests in social e-commerce
At the height of the new crown pandemic, when everyone was stuck at home, Instagram launched the Instagram Store. This gave small businesses the opportunity to showcase products in the app and sell them directly to their followers.
Consumers can visit the brand's Instagram page and click "Shop" at the bottom to view the catalog and make a purchase.
Brands can also create shoppable posts where every item worn by influential webmasters and bloggers is available for sale. When shoppers click on the image, the price of each item appears. If they are interested, they can make a purchase from within the app.
Do you need the Instagram store to use payments in chat?
No, you don't need to open an Instagram store to use payments in chat.
Chat Payments is actually aimed at small businesses that don't have an Instagram store. These companies may not have the time, resources or products to create a social store, but still want to streamline the buying process through Instagram.
The practice of selling Instagram chat feature
If you want to sell on Instagram, you can follow the best practice tips presented by IZEA.
Hashtags make your posts searchable, so be sure to research and add hashtags to your posts. For example, hashtags such as #OOTD (Outfit of the Day) or #ShopLocal can help new shoppers find your products.
Give your posts paid heat
If you invest time and effort in selling on Instagram, then heating up ads through posts may be a wise choice. It can be a natural way to attract customers, but the ads will increase your audience reach and brand awareness.
ESTABLISHING influencer KOL PARTNERSHIPS
One of the best ways to promote your products is to work with influential KOLs. By promoting your products through influential bloggers and sharing them on their social channels, you can not only engage with a new audience, but you can also combine influential campaigns with Instagram's new chat payment feature, which gives you a new channel to sell your products.
Social channels are quickly becoming mini online stores, which means consumers and brands must adapt to changing user buying behaviors. Get started with an influential online marketing campaign to make your social commerce efforts more successful.
ABOUT IZEA GLOBAL influencer MARKETING
IZEA Worldwide, Inc. ("IZEA") is a marketing technology company that provides software and professional services that enable brands to collaborate and transact with the full range of today's socially influential online KOLs and content creators. The company is a pioneer in the evolving commercialization of content, enabling self-publishers to create value through their content, creativity and influence. IZEA launched the industry's first influencer content marketing platform in 2006 and has since facilitated nearly 4 million transactions between online brand buyers and influencer content creators. Leading brands and agencies worldwide have partnered with IZEA to drive social media engagement rates, diversify brand voice, expand content production and drive measurable return on investment.
IZEA's influencer marketing software and full-service solutions are trusted by the world's leading brands to find the right solution for you. Contact Us
Get the latest influencer marketing news